4
mn read
In this post we present a case of Large Tarlov Cyst on Sacrum, extending from L5 to S2. It is described under the following heads:
What is Tarlov Cyst?
aka Perineural cysts.
It was first described by Isadore Max Tarlov (1905-1977) in 1938, hence the name Tarlov Cyst.
They are CSF-filled dilatations of the sheath of nerve root at the dorsal root ganglion (posterior nerve root sheath)
The CSF is collected between the endoneurium and perineurium of the nerve root sheath
They are typically extradural [1]
They are classified as Type 2 Spinal Meningeal Cysts as per the classification of meningeal cystic lesions of the sacrum (Naber Classification) proposed by Naber et al [2]
Tarlov cyst can be found anywhere in the spine but they are most common in Sacrum and Lumbar region.
Case: Tarlov Cyst on Sacrum
A 38-year-old female presented with complaints of Lower Back pain referred to both Hips from past 4 years. The pain was gradual onset, progressive in intensity, aggravated by sitting and relieved by lying down. There was no weakness and no involvement of bowel and bladder.
Types of Tarlov Cysts
Types:

With spinal nerve roots fibers
Without spinal nerve roots fibers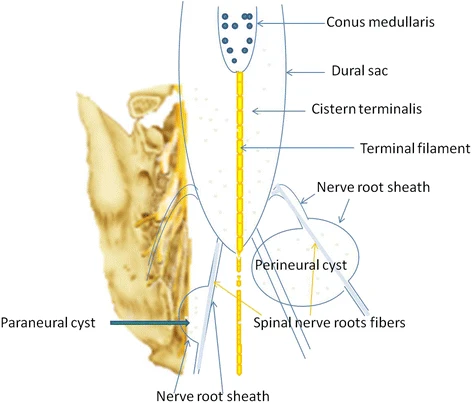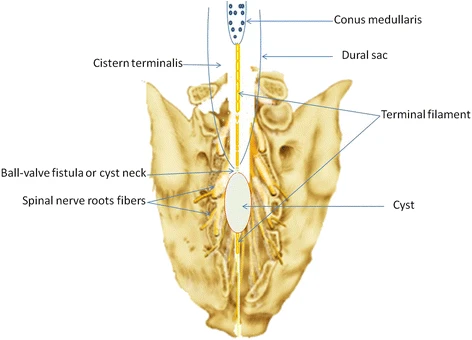 Epidemiology of Tarlov Cysts
Seen in up to 4.6% of the population
More common in women
Symptoms of Tarlov Cysts on Sacrum
The majority of Tarlov's cysts are found incidentally and are asymptomatic
If symptomatic, they are called sacral symptomatic Tarlov cysts
They may present with any of the following symptoms [3][4][5]

Lower back pain (Most Common)
Sacral radiculopathy
Pelvic/ Perineal dyscomfort
Dyspareunia
Bladder/ Bowel incontinence
Motor weakness

Large cyst can cause local vertebral scalloping due to persistent pressure
Diagnosis
Most Tarlov cysts are incidentally detected in imaging done for other indications
These cysts are usually diagnosed with MRI. along with the details of the cyst, it also provides other information like nerve root compression, association with nerve root elements etc.
Flow-sensitive MR imaging can be used for differentiating communicating from noncommunicating Tarlov's cysts [6]
MRI Findings:

T1: Hypointense
T2: Hyperintense
T1 Contrast: no enhancement
Scalloping of Vertebral Bodies
Treatment
No treatment is required for asymptomatic Tarlov's cysts
In cysts less than 1.5 cm in size, all other causes of symptoms must be excluded as it was found that usually cysts less than 1.5 cm were not the cause of symptoms and the surgical treatment did not result in symptom resolution. [7]
Large cysts (> 1.5 cm) and the presence of associated radicular symptoms strongly correlate with excellent response after surgery. [7]
Operative Management

Cyst Removal and Dural Cleft Repair Through Laminectomy or Hemilaminectomy +/- Fixation [8] [9]

redundant cyst walls should be resected
communicating fistulae should be oversewn to prevent leakage of CSF
sacrificing the entire nerve root should be avoided
fixation or posterior fusion should be done if cyst expands through many vertebras, as laminectomies in many segments would negatively influence the spinal column stability

CT Guided Aspiration and Injection of Fibrin Sealant- Satisfaction rates of around 70 percent at 3-6 years. Drawbacks: Can fail in large number of patients, Can cause Aseptic Meningitis and Nerve Damage, in case of failure, further surgical treatment becomes difficult due to scarring and coating of fibrin glue [10]
Tarlov Cyst on Sacrum Videos
Video 1: "The patient has genitopelvic dysesthesia symptoms due to a left S2 tarlov cyst. The cause of symptoms was confirmed by temporary resolution of symptoms with a targeted anesthetic injection. Symptoms have been worsening to the point where the patient is nearly bed bound."
Video 2: "The patient has active clitorodynia and urinary symptoms, likely due to the Tarlov Cysts at S2/S3. Targeted anesthetic injection provided temporary marked relief of the patients symptoms taht have now returned."
Other Related Articles
References
Sun, J. Classification, mechanism and surgical treatments for spinal canal cysts. Chin Neurosurg Jl 2, 7 (2016). https://doi.org/10.1186/s41016-016-0022-y
Nabors MW, Pait TG, Byrd EB et-al. Updated assessment and current classification of spinal meningeal cysts. J. Neurosurg. 1988;68 (3): 366-77. doi:10.3171/jns.1988.68.3.0366 – Pubmed citation
Marino D, Carluccio MA, Di Donato I, Sicurelli F, Chini E, Di Toro Mammarella L, Rossi F, Rubegni A, Federico A. Tarlov cysts: clinical evaluation of an italian cohort of patients. Neurol Sci. 2013 Sep;34(9):1679-82. doi: 10.1007/s10072-013-1321-0. Epub 2013 Feb 12. PMID: 23400656. https://pubmed.ncbi.nlm.nih.gov/23400656/
Hulens Mieke, Bruyninckx Frans, Somers Alix, Stalmans Ingeborg, Peersman Benjamin, Vansant Greet, Ricky Rasschaert, De Mulder Peter, Dankaerts Wim. Electromyography and A Review of the Literature Provide Insights into the Role of Sacral Perineural Cysts in Unexplained Chronic Pelvic, Perineal and Leg Pain Syndromes. (2017) International Journal of Physical Medicine & Rehabilitation. 5 (3): 1. doi:10.4172/2329-9096.1000407
Medani, K., Lawandy, S., Schrot, R., Binongo, J. N., Kim, K. D., & Panchal, R. R. (2019). Surgical management of symptomatic Tarlov cysts: cyst fenestration and nerve root imbrication-a single institutional experience. Journal of spine surgery (Hong Kong), 5(4), 496–503. https://doi.org/10.21037/jss.2019.11.11
Davis SW, Levy LM, LeBihan DJ, Rajan S, Schellinger D. Sacral meningeal cysts: evaluation with MR imaging. Radiology. 1993 May;187(2):445-8. doi: 10.1148/radiology.187.2.8475288. PMID: 8475288. https://pubmed.ncbi.nlm.nih.gov/8475288/
Voyadzis JM, Bhargava P, Henderson FC. Tarlov cysts: a study of 10 cases with review of the literature. J Neurosurg. 2001 Jul;95(1 Suppl):25-32. doi: 10.3171/spi.2001.95.1.0025. PMID: 11453427. https://pubmed.ncbi.nlm.nih.gov/11453427/
Sun JJ, Wang ZY, Teo M, Li ZD, Wu HB, Yen RY, et al. Comparative outcomes of the two types of sacral extradural spinal meningeal cysts using different operation methods: a prospective clinical study. PLoS One. 2013;8(12):e83964. https://pubmed.ncbi.nlm.nih.gov/24386317/
Petridis AK, Doukas A, Barth H, Mehdorn HM. Spinal cord compression caused by idiopathic intradural arachnoid cysts of the spine: review of the literature and illustrated case. Eur Spine J. 2010;19(S2):124–9. https://doi.org/10.1007%2Fs00586-009-1156-9
K. Murphy, A.L. Oaklander, G. Elias, S. Kathuria and D.M. LongAmerican Journal of Neuroradiology February 2016, 37 (2) 373-379; DOI: https://doi.org/10.3174/ajnr.A4517