5
mn read
Can Gas cause Headaches?
Can Gas cause headache? Here is a common rather funny query by patients which makes us smile often. There is no logical explanation on how abdominal gas will reach the brain to cause headaches?
And you would be surprised that this is a very common query being searched on Google every day.
Have explored the evidence related to it in this brief blog. Your views and comments are welcome.
If you go through the searches people do on google related to headaches, one very intriguing query that will make you wonder why people have been searching for a correlation between Abdominal Gas and Headaches.
Is there really a correlation or is it just a piece of misinformation prevalent in the community? Or is it being spread by alternative medicine practitioners carried on with traditional teachings without any scientific evidence?
Below are the common related keyword searches and the search volumes in India (Source: Ubersuggest):
Does gas cause headache – 320 searches per month
can gas cause headache – 590 searches per month
can gas cause headaches – 260 searches per month
can gas cause headaches and dizziness – 90 searches per month
does stomach gas cause headache – 30 searches per month
can gas problem cause headache
why gas causes headache
is gas cause headache
will gas cause headache
headache due to gas during pregnancy
how does stomach gas cause headache
does gas in stomach cause headache
does acidity and gas cause headache
can gas cause a headache
do gas cause headaches
does gas problems cause headaches
headache and vomiting due to gas
how does gas cause headache
can acidity cause headache and vomiting
does gas give you headaches
does natural gas cause headaches
does gas cause migraines
can gas cause head pain
gas causing headache remedy
What is the direct answer to this question- Can Gas cause Headache?
The answer to this question is NO, the gas cannot directly cause headaches in a normal individual unless you develop air embolism. This is seen in scuba divers when they do a sudden ascent after a deep dive. It can also be seen after head and neck injuries where air can make way into the blood circulation through a bleeding vessel.
However, due to this prevalent belief, there have been many studies that have found that some headaches do get relieved on the treatment of the associated gastric and intestinal disorders (causing gastric discomfort which is perceived as gas).
Gastrointestinal Disorders associated with Headaches
Gastric and intestinal disorders which cause gastric discomfort (perceived as Gas) and have also been found to have some association to headaches are (1) :
dyspepsia
gastroesophageal reflux disease (GERD)
constipation
functional abdominal pain
inflammatory bowel disorders (IBD)
celiac disease
helicobacter pylori (H. Pylori) infection.
Autonomic Aura as a Precursor of Migraine
In some studies, it was found that gastric discomfort did not lead to headaches but actually gastric discomfort may mark the start of a migrainous headache and is called an aura. This all happens due to the effect of constriction of brain blood vessels and its effect on the corresponding autonomic area which controls our gastrointestinal system responses.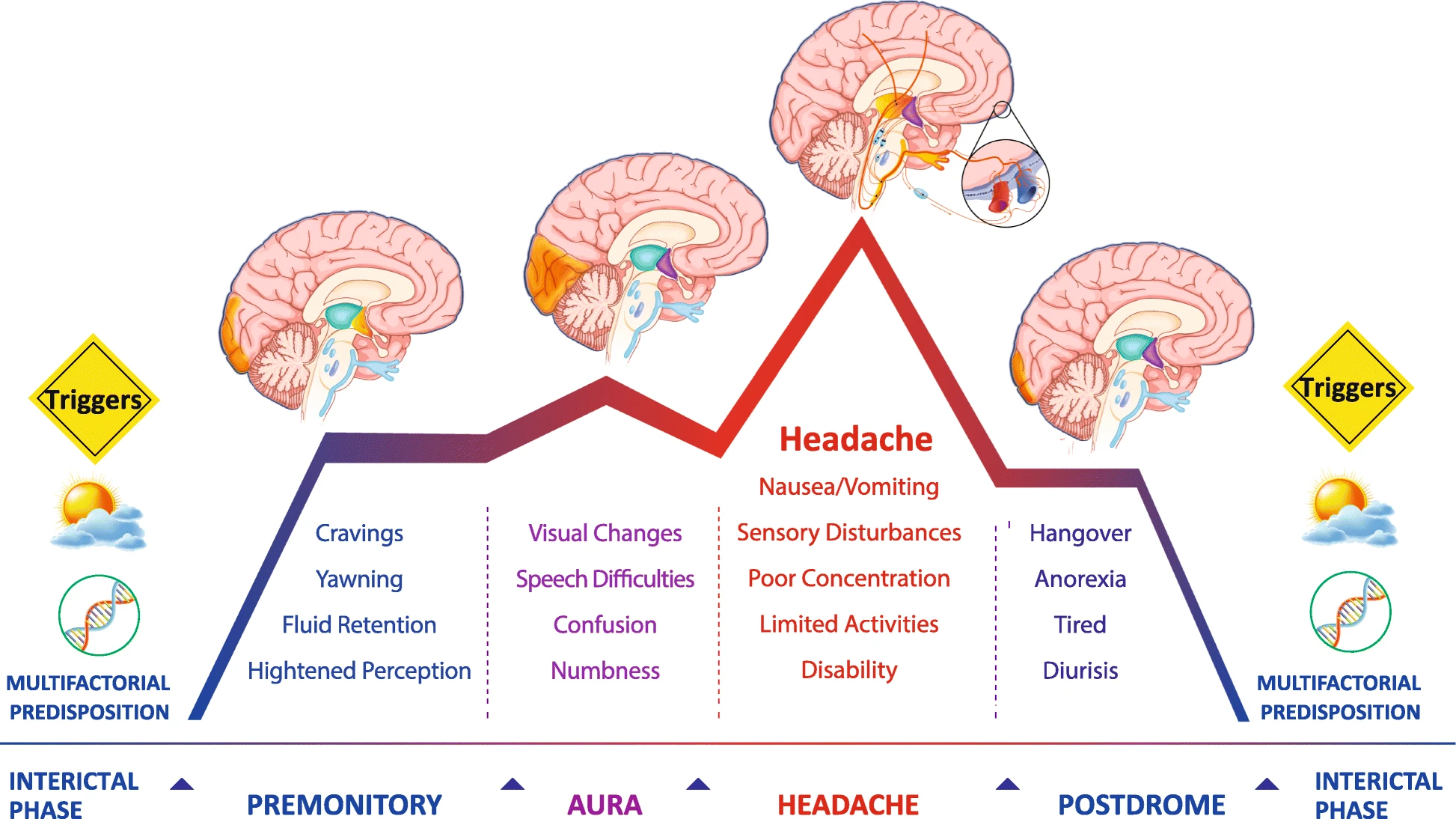 Different Phases of Migraine and Associated Symptoms (Andreou, A.P., Edvinsson, L. Mechanisms of migraine as a chronic evolutive condition. J Headache Pain

20,

117 (2019). https://doi.org/10.1186/s10194-019-1066-0)
Lifestyle or Dietary Factor Leading to Headaches
There are many stimulants that can be a reason for the start of migrainous headaches along with separately causing gastrointestinal symptoms. These include:
Stress
Not eating on time leading to hypoglycemia
Fatigue
Lack of sleep
Having foods that are known to stimulate an attack of migraines: Dark Chocolate, Cheese, Chinese food, Canned meat, and Alcohol.
Pathways for Headaches in GI disorders
While in another set of studies, for example, treatment of gastroesophageal reflux disease by giving proton pump inhibitors led to the resolution of headaches. In this set of studies, s
ome of the hypotheses which have been proposed for this association are (1):
central sensitization and parasympathetic referred pain
serotonin pathways
autonomic nervous system dysfunction
systemic vasculopathy
food allergy.
However, still we don't have an exact answer to how gastric and intestinal disorders can have an effect on the brain. It is an area still open to research to suggest a causal mechanism. But one thing is for sure that human body systems are closely knit together and are likely to have a bigger interplay between them than what we yet understand.
Related Posts
History Taking in Neurosurgery : Headache
›
What are the pain sensitive intracranial structures? Brain itself is pain insensitive. The following intracranial structures ar…
Hypertensive Pontine Hemorrhage
›
Contents Case Report Introduction Signs and symptoms Pathophysiology Diagnosis Treatment Hyperte…
References
1. T Noghani, Majid et al. "Gastrointestinal Headache; a Narrative Review." Emergency (Tehran, Iran) vol. 4,4 (2016): 171-183.
2. Egilius L.H. Spierings (2002). Headache of Gastrointestinal Origin: Case Studies. , 42(3), 217–219. doi:10.1046/j.1526-4610.2002.02054.x
3.
Andreou, A.P., Edvinsson, L. Mechanisms of migraine as a chronic evolutive condition.
J Headache Pain
20,
117 (2019).